Yacht Brochure
---
DOLCEVITACAT
$28,500 - $32,500 / WEEK
---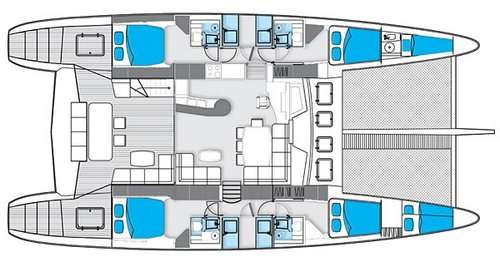 Boat Details
| | |
| --- | --- |
| Cabins: | 4 |
| Queen: | 4 |
| Single Cabins: | 1 |
| Showers: | 4 |
| Wash Basins: | - |
| Heads: | 4 |
| Electric Heads: | 4 |
Pick Up Locations
| | |
| --- | --- |
| Pref. Pick-up: | SAN BLAS |
| Other Pick-up: | - |
---
Details
| | |
| --- | --- |
| Refit: | 2019 |
| Helipad: | No |
| Jacuzzi: | No |
| A/C: | Full |
Engine Details
2 X YANMAR HP 110; 1 KOELER GENERATOR 13KW; 1 KOELER GENERATOR KW 17
Fuel Consumption:
-
Cruising Speed:
8
Max Speed:
10US Gall/Hr
Locations
| | |
| --- | --- |
| Winter Area: | Central America |
| Summer Area: | Central America |
---
Amenities
Salon Tv/VCR:
Yes
Salon Stereo:
Yes
Sat Tv:
SAT PHONE AND INTERNET
# of Videos:

Warning: array_filter() expects parameter 1 to be array, string given in /pages/25/20/d0013244/home/htdocs/PYC/wp-content/plugins/yacht-cya/templates/shortcode-ebrochure.php on line 261
-
# DVDs/Movies:
YES
# CD's:
YES
Camcorder:
-
Books:
-
Board Games:
Yes
Sun Awning:
-
Deck Shower:
Yes
Bimini:
Yes
Water Maker:
230 L/T
| | |
| --- | --- |
| Special Diets: | Yes |
| Kosher: | Inq |
| BBQ: | Yes |
| # Dine In: | YES |
| Minimum Age: | - |
| Generator: | 1 X KW17 AND 1 X KW13 |
| Inverter: | YES (4) |
| Voltages: | 24/220 VOLTS |
| Water Maker: | 230 L/T |
| Water Cap: | 1200 L. |
| Ice Maker: | Yes |
| Sailing Instructions: | - |
| Internet Access: | Onboard WIFI |
| | |
| --- | --- |
| Gay Charters: | Inq |
| Nude: | Inq |
| Hairdryers: | Yes |
| # Port Hatches: | YES |
| Guests Smokes: | OUTSIDE |
| Crew Smokes: | No |
| Pets Aboard: | No |
| Pet Type: | - |
| Guest Pets: | No |
| Children Ok: | Yes |
| Hammock: | - |
| Windscoops: | - |
---
Water Sports
| | |
| --- | --- |
| Dinghy size: | HIGHFIELD A 470 |
| Dinghy hp: | 70 YAMAHA |
| Dinghy # pax: | 9 |
| Water Skis Adult: | Yes |
| Water Skis Kids: | Yes |
| Jet Skis: | - |
| Wave Runners: | - |
| Kneeboard: | Yes |
| Windsurfer: | - |
| Snorkel Gear: | 8 |
| Tube: | Yes |
| | |
| --- | --- |
| Scurfer: | - |
| Wake Board: | Yes |
| Kayaks 1 Pax: | - |
| Kayaks (2 Pax): | 2 |
| Floating Mats: | 2 |
| Swim Platform: | NO |
| Boarding Ladder (Loc/Type): | YES |
| Sailing Dinghy: | - |
| Beach Games: | - |
| Fishing Gear: | Yes |
| Gear Type: | THROLLING |
| Rods: | 2 |
Captain Giacomo ("Jack or Jaco if easier") D'Andrea ~
was born and raised in Milan, Italy, and moved to Genoa after high school to attend a Marine Sciences University. On family holidays Giacomo fell in love with boating from the age of 4, sailing on Lake Como, racing Optimists at age 12, and joining the National team at 18, where he qualified for the European Championship! A lover of the open air and sports, he also played soccer, basketball, and was even a boy-scout. Giacomo also completed 2 months working with researchers and administrators of an Italian Marine Protect-ed Area as part of his maritime education.

After completing his University Studies, he worked as an Optimist and 420 instructor, coaching a junior Italian national team, RS Feva, where he went to the European and World championships as part of the staff of the Italian Federation. One of the team he coached was the Bronze medal winner at the World Cup.

In 2010, he was approached by a sailing club member to work as a deckhand for some charters. He found it a good way to unite career and passion, and his hard work has paid off. Along with his Marine Sciences Degree, Giacomo now holds a 200-ton Master unlimited captain's license and a dive certification. Fortune has sent him to some fun places, he loves French Polynesia for its people, and the Greek Islands for the warm sailing winds. He has crossed both the Atlantic and Pacific Oceans; and has worked on luxury yachts in the Mediterranean and the Caribbean. His latest hobby is kitesurfing, and his motto is to Never Give Up!

Giacomo's friends describe him as Friendly, honest, and talkative. He likes keeping the charterers active and busy, taking guests exploring by both boat and ashore. A major focus for him is the safety and comfort of the guests and keeping a relaxed atmosphere on a well-maintained yacht. He cares a lot about the crew and boat, and also loves discussing and adapting the charter schedule to make it the most interesting and enjoyable for the guests aboard.
Andiamo!



Chef Claudia Sardella ~
grew up near the sea in Avellino, Italy, with one brother, and two cousins who were like brothers to her. She studied cooking at ALMA (Scuola International de Cucina Italiana), which included working in Michelin Star restaurants. Claudia has 14 years' experience on private and charter yachts, has sailed the Mediterranean and Caribbean, and has crossed the Atlantic Ocean.

Guests love Claudia's Mediterranean Cuisine, especially pastas and fish dishes, although she especially enjoys creating Asian and other gourmet style foods. While on charter, she likes interacting with guests, and, if children are aboard, playing with or teaching them some sailing when time allows. This kind and educated young lady is enthusiastic and welcoming, while still keeping a careful eye out that the guests and boat are attended to.

Claudia is a big fan of travel. Her sporting favorites are cycling, trekking, and snorkeling. As a young girl she participated in classic, modern, and contemporary dance. Her motto is "Remember Always to Dare"!


(15 December -30 April)
Central America
(1 May - 14 December)
Central America
| | | | | | | | | | | | | | | | | | | | | | | | | | | | | | | | |
| --- | --- | --- | --- | --- | --- | --- | --- | --- | --- | --- | --- | --- | --- | --- | --- | --- | --- | --- | --- | --- | --- | --- | --- | --- | --- | --- | --- | --- | --- | --- | --- |
| Dec 2021 | 1 | 2 | 3 | 4 | 5 | 6 | 7 | 8 | 9 | 10 | 11 | 12 | 13 | 14 | 15 | 16 | 17 | 18 | 19 | 20 | 21 | 22 | 23 | 24 | 25 | 26 | 27 | 28 | 29 | 30 | 31 |
| Jan 2022 | 1 | 2 | 3 | 4 | 5 | 6 | 7 | 8 | 9 | 10 | 11 | 12 | 13 | 14 | 15 | 16 | 17 | 18 | 19 | 20 | 21 | 22 | 23 | 24 | 25 | 26 | 27 | 28 | 29 | 30 | 31 |
| Feb 2022 | 1 | 2 | 3 | 4 | 5 | 6 | 7 | 8 | 9 | 10 | 11 | 12 | 13 | 14 | 15 | 16 | 17 | 18 | 19 | 20 | 21 | 22 | 23 | 24 | 25 | 26 | 27 | 28 | | | |
| Mar 2022 | 1 | 2 | 3 | 4 | 5 | 6 | 7 | 8 | 9 | 10 | 11 | 12 | 13 | 14 | 15 | 16 | 17 | 18 | 19 | 20 | 21 | 22 | 23 | 24 | 25 | 26 | 27 | 28 | 29 | 30 | 31 |
| Apr 2022 | 1 | 2 | 3 | 4 | 5 | 6 | 7 | 8 | 9 | 10 | 11 | 12 | 13 | 14 | 15 | 16 | 17 | 18 | 19 | 20 | 21 | 22 | 23 | 24 | 25 | 26 | 27 | 28 | 29 | 30 | |
| May 2022 | 1 | 2 | 3 | 4 | 5 | 6 | 7 | 8 | 9 | 10 | 11 | 12 | 13 | 14 | 15 | 16 | 17 | 18 | 19 | 20 | 21 | 22 | 23 | 24 | 25 | 26 | 27 | 28 | 29 | 30 | 31 |
| Jun 2022 | 1 | 2 | 3 | 4 | 5 | 6 | 7 | 8 | 9 | 10 | 11 | 12 | 13 | 14 | 15 | 16 | 17 | 18 | 19 | 20 | 21 | 22 | 23 | 24 | 25 | 26 | 27 | 28 | 29 | 30 | |
| Jul 2022 | 1 | 2 | 3 | 4 | 5 | 6 | 7 | 8 | 9 | 10 | 11 | 12 | 13 | 14 | 15 | 16 | 17 | 18 | 19 | 20 | 21 | 22 | 23 | 24 | 25 | 26 | 27 | 28 | 29 | 30 | 31 |
| Aug 2022 | 1 | 2 | 3 | 4 | 5 | 6 | 7 | 8 | 9 | 10 | 11 | 12 | 13 | 14 | 15 | 16 | 17 | 18 | 19 | 20 | 21 | 22 | 23 | 24 | 25 | 26 | 27 | 28 | 29 | 30 | 31 |
| Sep 2022 | 1 | 2 | 3 | 4 | 5 | 6 | 7 | 8 | 9 | 10 | 11 | 12 | 13 | 14 | 15 | 16 | 17 | 18 | 19 | 20 | 21 | 22 | 23 | 24 | 25 | 26 | 27 | 28 | 29 | 30 | |
| Oct 2022 | 1 | 2 | 3 | 4 | 5 | 6 | 7 | 8 | 9 | 10 | 11 | 12 | 13 | 14 | 15 | 16 | 17 | 18 | 19 | 20 | 21 | 22 | 23 | 24 | 25 | 26 | 27 | 28 | 29 | 30 | 31 |
| Nov 2022 | 1 | 2 | 3 | 4 | 5 | 6 | 7 | 8 | 9 | 10 | 11 | 12 | 13 | 14 | 15 | 16 | 17 | 18 | 19 | 20 | 21 | 22 | 23 | 24 | 25 | 26 | 27 | 28 | 29 | 30 | |
---