Yacht Brochure
---
ALMAZ
€17,500 - €19,500 / WEEK
---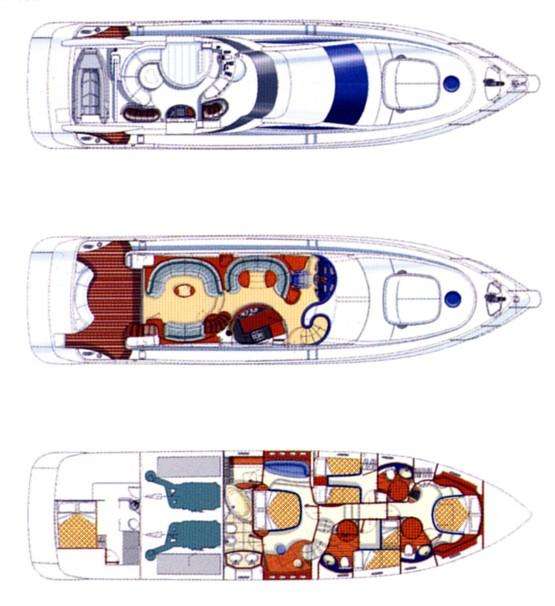 Boat Details
| | |
| --- | --- |
| Cabins: | 4 |
| Queen: | 2 |
| Single Cabins: | 1 |
| Showers: | 4 |
| Wash Basins: | - |
| Heads: | 4 |
| Electric Heads: | - |
Pick Up Locations
| | |
| --- | --- |
| Pref. Pick-up: | - |
| Other Pick-up: | - |
---
Details
| | |
| --- | --- |
| Refit: | 2017 |
| Helipad: | No |
| Jacuzzi: | No |
| A/C: | Full |
Engine Details
Engines: 2 x 1.360 HP MAN Generators: 1 Kohler 17,5 KW + 1 Kohler 20,0 KW
Fuel Consumption:
350
Cruising Speed:
24
Max Speed:
31US Gall/Hr
Locations
| | |
| --- | --- |
| Winter Area: | Greece |
| Summer Area: | Greece |
---
Amenities
| | |
| --- | --- |
| Salon Tv/VCR: | - |
| Salon Stereo: | - |
| Sat Tv: | - |
| # of Videos: | - |
| # DVDs/Movies: | - |
| # CD's: | - |
| Camcorder: | - |
| Books: | - |
| Board Games: | - |
| Sun Awning: | - |
| Deck Shower: | - |
| Bimini: | - |
| Water Maker: | - |
| | |
| --- | --- |
| Special Diets: | Inq |
| Kosher: | Inq |
| BBQ: | - |
| # Dine In: | - |
| Minimum Age: | - |
| Generator: | - |
| Inverter: | - |
| Voltages: | - |
| Water Maker: | - |
| Water Cap: | - |
| Ice Maker: | - |
| Sailing Instructions: | - |
| Internet Access: | - |
| | |
| --- | --- |
| Gay Charters: | Yes |
| Nude: | Yes |
| Hairdryers: | - |
| # Port Hatches: | - |
| Guests Smokes: | - |
| Crew Smokes: | Inq |
| Pets Aboard: | No |
| Pet Type: | - |
| Guest Pets: | - |
| Children Ok: | - |
| Hammock: | - |
| Windscoops: | - |
---
Water Sports
| | |
| --- | --- |
| Dinghy size: | - |
| Dinghy hp: | - |
| Dinghy # pax: | - |
| Water Skis Adult: | - |
| Water Skis Kids: | - |
| Jet Skis: | - |
| Wave Runners: | - |
| Kneeboard: | - |
| Windsurfer: | - |
| Snorkel Gear: | - |
| Tube: | - |
| | |
| --- | --- |
| Scurfer: | - |
| Wake Board: | - |
| Kayaks 1 Pax: | - |
| Kayaks (2 Pax): | - |
| Floating Mats: | - |
| Swim Platform: | - |
| Boarding Ladder (Loc/Type): | - |
| Sailing Dinghy: | - |
| Beach Games: | - |
| Fishing Gear: | - |
| Gear Type: | - |
| Rods: | - |
Position: Captain
Name: Vassilis Mazis
Nationality: Greek
Languages: Greek & English

Information
Captain Vassilis has 17 years experience in the marine industry ranging from unlimited tonnage tankers to cruising ships, passenger ships, motor yachts, carrying thousands of passengers daily. He has extensively cruised the Eastern and Western Mediterranean as well as the North Atlantic.
He studied in the Naval Academy as an Officer and graduated from the Merchant Marine Academy of Kefalonia Island. His enthusiasm blends well with the positive attitude of the entire crew. As the Captain, he takes great pride in creating tailor-made yacht cruise experiences for each charterer and works closely with his guests to ensure that all of their needs are met. His love for travelling provides Vasilis with the passion to research and organize all kinds of activities for the enhancement of the onboard experience.

Position: Sailor / Deckhand
Name: Remigo Dilao
Nationality: Filipino
Languages: English & Filipino

Information
His love for the sea is a driving force for Remigo. His team spirit, the tranquility of his character, but also his energetic and willingness, make Remigo a precious crew member and ideal for providing best services to guests

Position: Cook
Name: TBA

Position: Stewardess
Name: Eirini Kalle
Nationality: Greek
Languages: Greek & English

Information
Eirini, is the youngest member of the crew. Ιs dedicated to ensure customer satisfaction through prompt service which lies above everything else. Her primary motto is to serve passengers and ensure their well being, comfort and safety. Eirini is discreet but humorous, effective and consistent in her duties. Patience and hard work are her basic characteristics.

(15 December -30 April)
Greece
(1 May - 14 December)
Greece
| | | | | | | | | | | | | | | | | | | | | | | | | | | | | | | | |
| --- | --- | --- | --- | --- | --- | --- | --- | --- | --- | --- | --- | --- | --- | --- | --- | --- | --- | --- | --- | --- | --- | --- | --- | --- | --- | --- | --- | --- | --- | --- | --- |
| Jul 2022 | 1 | 2 | 3 | 4 | 5 | 6 | 7 | 8 | 9 | 10 | 11 | 12 | 13 | 14 | 15 | 16 | 17 | 18 | 19 | 20 | 21 | 22 | 23 | 24 | 25 | 26 | 27 | 28 | 29 | 30 | 31 |
| Aug 2022 | 1 | 2 | 3 | 4 | 5 | 6 | 7 | 8 | 9 | 10 | 11 | 12 | 13 | 14 | 15 | 16 | 17 | 18 | 19 | 20 | 21 | 22 | 23 | 24 | 25 | 26 | 27 | 28 | 29 | 30 | 31 |
| Sep 2022 | 1 | 2 | 3 | 4 | 5 | 6 | 7 | 8 | 9 | 10 | 11 | 12 | 13 | 14 | 15 | 16 | 17 | 18 | 19 | 20 | 21 | 22 | 23 | 24 | 25 | 26 | 27 | 28 | 29 | 30 | |
| Oct 2022 | 1 | 2 | 3 | 4 | 5 | 6 | 7 | 8 | 9 | 10 | 11 | 12 | 13 | 14 | 15 | 16 | 17 | 18 | 19 | 20 | 21 | 22 | 23 | 24 | 25 | 26 | 27 | 28 | 29 | 30 | 31 |
| Nov 2022 | 1 | 2 | 3 | 4 | 5 | 6 | 7 | 8 | 9 | 10 | 11 | 12 | 13 | 14 | 15 | 16 | 17 | 18 | 19 | 20 | 21 | 22 | 23 | 24 | 25 | 26 | 27 | 28 | 29 | 30 | |
| Dec 2022 | 1 | 2 | 3 | 4 | 5 | 6 | 7 | 8 | 9 | 10 | 11 | 12 | 13 | 14 | 15 | 16 | 17 | 18 | 19 | 20 | 21 | 22 | 23 | 24 | 25 | 26 | 27 | 28 | 29 | 30 | 31 |
| Jan 2023 | 1 | 2 | 3 | 4 | 5 | 6 | 7 | 8 | 9 | 10 | 11 | 12 | 13 | 14 | 15 | 16 | 17 | 18 | 19 | 20 | 21 | 22 | 23 | 24 | 25 | 26 | 27 | 28 | 29 | 30 | 31 |
| Feb 2023 | 1 | 2 | 3 | 4 | 5 | 6 | 7 | 8 | 9 | 10 | 11 | 12 | 13 | 14 | 15 | 16 | 17 | 18 | 19 | 20 | 21 | 22 | 23 | 24 | 25 | 26 | 27 | 28 | | | |
| Mar 2023 | 1 | 2 | 3 | 4 | 5 | 6 | 7 | 8 | 9 | 10 | 11 | 12 | 13 | 14 | 15 | 16 | 17 | 18 | 19 | 20 | 21 | 22 | 23 | 24 | 25 | 26 | 27 | 28 | 29 | 30 | 31 |
| Apr 2023 | 1 | 2 | 3 | 4 | 5 | 6 | 7 | 8 | 9 | 10 | 11 | 12 | 13 | 14 | 15 | 16 | 17 | 18 | 19 | 20 | 21 | 22 | 23 | 24 | 25 | 26 | 27 | 28 | 29 | 30 | |
| May 2023 | 1 | 2 | 3 | 4 | 5 | 6 | 7 | 8 | 9 | 10 | 11 | 12 | 13 | 14 | 15 | 16 | 17 | 18 | 19 | 20 | 21 | 22 | 23 | 24 | 25 | 26 | 27 | 28 | 29 | 30 | 31 |
| Jun 2023 | 1 | 2 | 3 | 4 | 5 | 6 | 7 | 8 | 9 | 10 | 11 | 12 | 13 | 14 | 15 | 16 | 17 | 18 | 19 | 20 | 21 | 22 | 23 | 24 | 25 | 26 | 27 | 28 | 29 | 30 | |
---